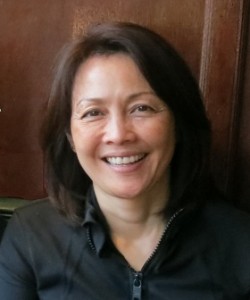 Jenny is a third generation Japanese American, born in Honolulu and raised in Tokyo. After living in Japan, Singapore, and Kuwait for over thirty years, she moved near Seattle with her family. Having lived in a diverse and international environment, Jenny has a great love of cultures. She has been studying Ikebana (Japanese flower arrangement) for over ten years and is also a student of Japanese Tea Ceremony. She shares her twin passions of Asian culture and design on her blog www.AsianLifestyleDesign.com .
Upon returning to the United States, Jenny obtained her interior design degree from Bellevue College. Ten years ago, the Ikebana Association invited Dr. Hsu as a guest speaker. His knowledge of space design and energy made so much sense, that she felt destined to learn Feng Shui, and so enrolled as a student of Dr Hsu.
After completing many years of study with Dr Hsu, Jenny Nakao Hones is now a teacher at the Blue Mountain Feng Shui Institute. She has been a co-teacher of the certification program in Seattle and Ukraine, with an emphasis on interiors. She has also taught Feng Shui at the Bellevue College Continuing Education Program.  In addition, Jenny is the co-author of the e-book Feng Shui: Truths, Myths & Misunderstandings with Master Shan-tung Hsu.
By incorporating Feng Shui in all her designs including kitchens, bathroom, living rooms, nursing homes and public spaces, her designs are functional, beautiful, and have good chi. As an interior designer at her business 3 Frogs Design, she also brings conventional knowledge to space design. Jenny continues to offer feng shui consultation and design services in the greater Seattle area through 3 Frogs Design.

Mini Lecture by Jenny Nakao Hones
All lecture hours are from 7pm to 9pm
Tuition: $40.00 per lecture